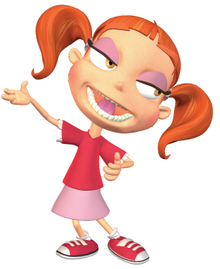 Melba Manners is the main antagonist of the series.
Character
Edit
Melba has constantly good advice for Tommy in stock. He considers it a stupid know-it-and he's a loser. She loves wearing pies on her head. Granville once threw a pie onto her head which left the surprised girl speechless.
Ironic his lastname manners never had manners.
Melba is the worst character of the series, the others being Villains and Clinton.
Ad blocker interference detected!
Wikia is a free-to-use site that makes money from advertising. We have a modified experience for viewers using ad blockers

Wikia is not accessible if you've made further modifications. Remove the custom ad blocker rule(s) and the page will load as expected.