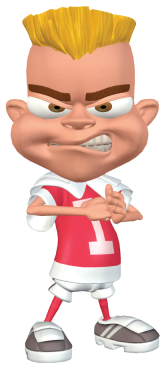 Clinton Filmore Jefferson the 13th is the second antagonist of the series.
Character
Edit
He looks as if he had jumped directly from a sports poster. Clinton is the football star at the school and speaks better "Sportisch" than any other language. His hobbies include competitions, even if just any place.
Ad blocker interference detected!
Wikia is a free-to-use site that makes money from advertising. We have a modified experience for viewers using ad blockers

Wikia is not accessible if you've made further modifications. Remove the custom ad blocker rule(s) and the page will load as expected.